In the heart of Europe, on the border of Czechia and Poland, east of the Giantmountains, are the Maplemountains.

The Maplemountains are one of the oldest nature-protected areas of Europe and offers a splendidly hilly landscape. This region is rich of culture, nature in an alternating landscape of sweet farmer's country, dense woods and rough rock formations. The surroundings wins the hearts of its visitors through rest, beauty and untouched nature.

Characteristique for this area are the rockcities of Teplice and Adrspach and the mountain chain Broumovské Steny with unique capricious sandstone rocks, 8 km from kempsite, views and lookout points. All seasons will surprise you. The summer with his warmth and the rural farmers live' the winter always rich of snow till far in March, but especially autumn with its colour splendour of the many maple trees. The convent of Broumov and the churches Krzeszow in Poland are examples of the rich architecture, which you will encounter frequently .

There are a lot of run well marked walking and bicycle routes in this beautiful area. Both in summer and wintertime there are several possibilities of exploring the surroundings, at foot, on the bicycle, by mountainbike, or possibly at horse and in the wintertime on snow shoes.

We invite you heartly to explore this wonderful area in the middle of Europe.

---

In the village Vernerovice, 40 km at east of the Giant Mountains, in immediacy of shop and restaurant (300 m.) and busstation are these 2 holiday houses and a small camp-site.
The 2 holiday houses have been built in a former hay barn of more than 100 years old, but now provided with modern comfort with conservation of the old atmosphere and large of set-up. You have a full view over the meadows and forested mounts. Do not be surprised, when stags or roe-deers are the users of your garden and the stork stands on your roof. The(floor) heating of the complete house is using wood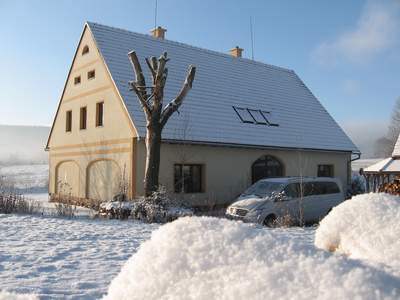 stoves and elektricity.
The restauration of the building has been done with respect for old, but with the newest techniques for economical use of energy. Warm water comes from solarboilers, in the complete building lies floor heating and insulation has been brought at the highest level. On our terrain we have our own water purification installation, so all our waste water goes clean in to the surface water. To these surroundings belongs our philosophy of a natural manner of life. Our guests indicate that the atmosphere of rest, space and healthy air, does them well.
Each holiday house is suitable for maximum 6 persons, provided with woodstove, wide living room with floor heating, SmartTV with Internet and many international channels, open kitchen with frigidaire, dishwasher, magnetron, hotair oven and ceramic cooker. Arranged with comfortable furniture.
Terrace and garden on the south with garden furniture and overviewing the meadows and hills in the far.
First floor: 2 sleeping rooms, of which 1 with lits-jumeaux and the other one with two separate beds. Bathroom with shower, toilet and bath. On application child bed present. house animals allowed after consultation.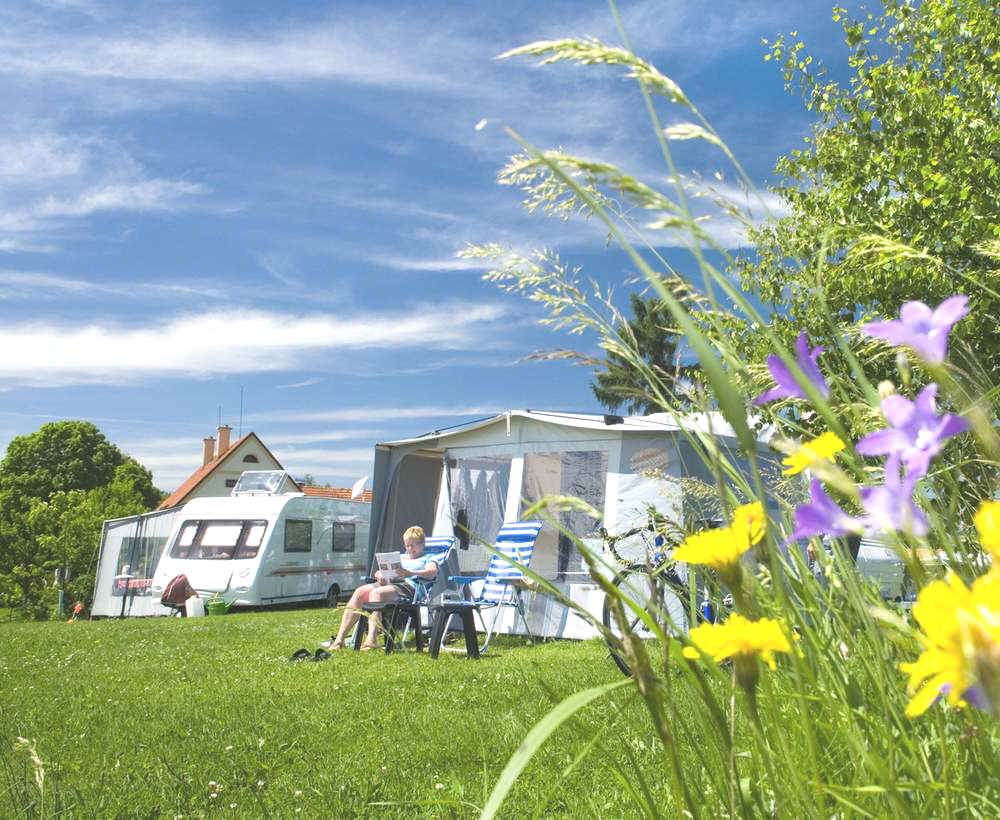 Around the farmhouse we have arrangements for tents, caravans or campers, such as electricity connection, luxuriously toilets and showers with floor heating, washingmachine, WIFI and lots of space! In spite of that the area 6000 m2 large is, we wish to keep our camp-site small. We find 15/20 tents and/or caravans, campers sufficient. Camp-site Aktief is the ideal base, not only for a sporty holiday, such as walks- and bicycletours, but also for a restfull or cultural holiday. Time will be too short. Aqualand Mezimesti 2,5 km.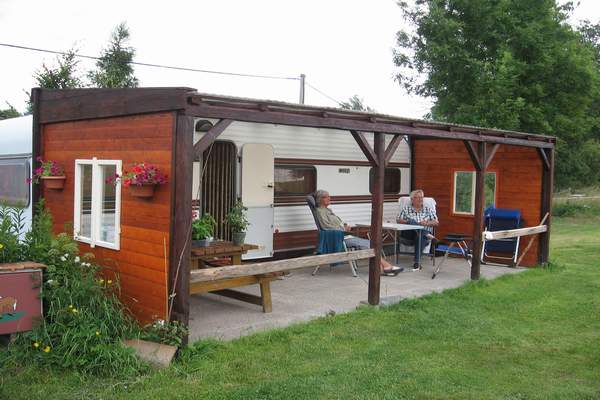 Rent caravan : 3 persons caravan (6 x 2.45 m.) stand, accomodated with frigidaire, coffeemaker, watercooker, heating and terrace furniture. Take along bed-, kitchen-, bathlinnen yourselve. We provide a clean caravan and suppose you will leave it clean afterwards.

Wifi on our terrain is free.
Prices
430 euro per week High season, july, august, christmas, newyear Holiday house the Rose for 2 persons, extra person 60 euro, max. 6 persons per house
375 euro per week Low season Holiday house the Rose for 2 persons, extra person 60 euro, max. 6 persons
70 euro per week Energy october - march
195 euro per week Rent caravan max. 3 persons incl. elektricity,
22 euro per night
Camp-site 2 persons incl elektra, showers, WIFI, Car, Caravan, camper or tent
6 euro per person extra
7,50 euro Packet of Bedlinnen per person
Contact (in Dutch, English or German) Tel. 00420 491 582 138 or 0031-612236194
address Vernerovice 131 54982 Vernerovice
E-mail bert.mien@email.cz or bertenmien@hetnet.nl